Markdown2Book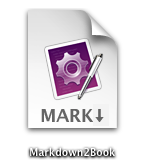 Introduction
This bundle is for compiling a Documentation project made of several Markdown files to HTML. It generates a TOC, a print version with all chapters on one page and HTML files for each chapter. You can use references to easily link between your pages.
My original eMail can be found on the TextMate Mailing List.
Download
An Example Manual (The first three chapters of the initial TextMate Manual) – This includes the necessary rhtml Templates
Version history
1.2
Quoting of Paths so it works for paths with Spaces in
Put it under Version Control
1.1
Generated Output is now XHTML Strict (thanks to "Hydro Meteor")
Updated the example manual.
1.0
Documentation
Documentation is available here and also included within the bundle via the Readme command.
Credits
Thanks to Allan Odgaard for doing the initial scripts and letting me use the first three chapters of the TextMate manual.
Links and Ressources
Other fun Markdown Projects can be found in the Markdown Wiki.
License
The Markdown2Book bundle is released under the following license.
Permission to copy, use, modify, sell and distribute this software is granted. This software is provided "as is" without express or implied warranty, and with no claim as to its suitability for any purpose.
---
Copyright © 1998–2009 Stanley Rost